…with a record-breaking first release!
Big news for our company! With our games publishing labels, ININ Games and Strictly Limited Games, we are moving into 2022 with a strategic focus on one of the most influential and important gaming territories, Japan.

What started with the success of Clockwork Aquario, our first video game release in both Japan and the West simultaneously, will now be expanded with our own growing Nippon-Team and further staff recruitment underway.

Made in and for Japan
Already a number of exciting game developments are underway for Japan, which we believe will follow the success of Clockwork Aquario that was developed exclusively for ININ Games and Strictly Limited Games on PlayStation 4 and Nintendo Switch by members of the original development team from the legendary studio Westone Bit Entertainment!

Building for the Long Run
Distribution channels and partnerships are also being set in place which will see a number of high profile ININ releases next year and also provides a platform for Strictly Limited Games, collector's editions, to become available to Japanese gamers.

Winner takes it all – Accolade for Clockwork Aquario
Already a winning formula is being set in place as together with Ryuichi Nishizawa, the creator of legendary Wonder Boy and co-founder of Westone Bit Entertainment, United Games Entertainment is pleased to announce that Clockwork Aquario has been awarded the Guinness World Records™ title for the longest time between video game project start and release!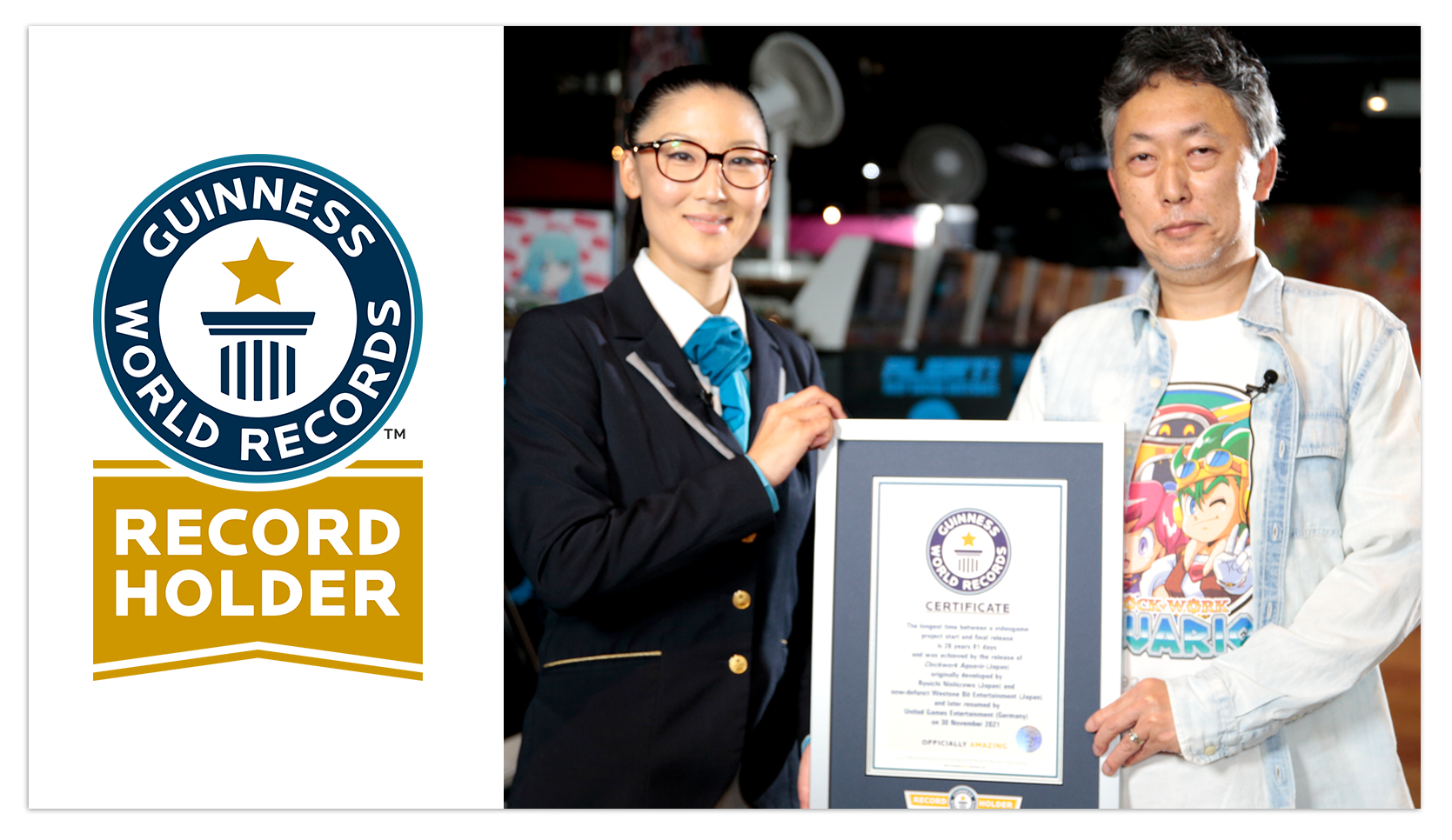 Clockwork Aquario is an exciting, colorful gem of an arcade game, the development of which initially started in 1991, but was never quite completed and seemingly lost. But then United Games rediscovered this gem, brought it back to life and now managed to complete the circle in 2021, almost 30 years later, with the recent release in Japan and Europe/Australasia on the 30th November for Nintendo Switch and PlayStation 4, to be followed by a North American release on 14th December. It has already achieved some notable reviews that include 9/10 from NintendoLife along with many others.

This record underlines the sheer effort that ININ Games and Strictly Limited Games are undertaking to release the most interesting games to the public so everyone can enjoy those hidden gems of gaming culture. In the end it is all about giving great games an immortal legacy.
Published December 9, 2021